Disinfecting Spray
Use the power of Hydrogen Peroxide ( a hospital grade disinfectant) that is released from none other than Crystal Clear Sodium Percarbonate.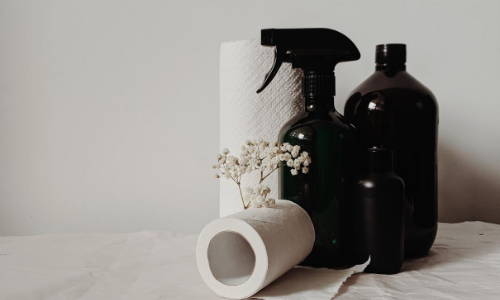 INGREDIENTS
- 1 tablespoon Sodium Percarbonate
- 1/4 cup hot/water
- 3/4 cup cold water
- 10- 15 drops Essential Oil (Optional)
TOOLS
- Mixing Jug (approx. 1 litre capacity)
- Measuring spoons/cups
- 250ml Spray Bottle
HOW TO MAKE IT
1.
Mix the percarbonate & hot water in the mixing jug until dissolved. This should foam up a bit (hotter the water, larger the foam)
2.
Add the cold water to cool in down, then pour in the spray bottle & use. Discard any leftovers as it will only remain active for approx 6-8 hours.
HOW TO USE IT
Spray on surfaces you wish to disinfect (not on the body though!) let sit for a few minutes & then wipe with a clean cloth
What makes this Disinfect?
Percarbonate is made of Washing Soda (a fantastic all purpose cleaner) & Hydrogen Peroxide (a natural hospital grade disinfectant). Together it makes what's known as Oxybleach, a bleach yes! But not like chlorine bleach that stains things. Learn about it in this blog here in The Beauty & the Beast of Bleach
Have you tried this recipe? Please share your comments & let others know about your experience - thank you!