How to wash dishes without detergent
I have not purchased a commercial cleaning product in 5 years, and this includes dish liquid!
Hi, I am Analisa the creator of Under Your Sink, the one who posts your orders and writes all these blogs 😊 I have found a solution to wash my dishes without any toxic chemicals and without any plastic waste and today I am sharing what I do, so you can do it too.
It is super easy, super cheap and once you get the hang of it you simply cannot go back to store bought. Paying $25 for a pack of dishwasher tablets with toxic chemicals and microplastics will be a thing of your past!
No need to hide ugly detergent bottles under the sink with my beautiful little set up.
I have a little system happening and together these items cover all dishwashing needs from hand
washing to the dishwasher and most importantly – do it effectively, I like my dishes to sparkle!
This is not detergent; this is a pure soap(learn the difference here). My soap of choice is pure organic liquid Castile Soap and I add roughly 1ml (20-25 drops) of essential oils like Eucalyptus, Lemon or what ever tickles my fancy at the time. This is perfectly safe as hand wash as well.

I have a recipe to make Dish Liquid whereby you dilute the Castile Soap with distilled water and then thicken it with xanthan gum. This makes it stretch further and is a better option for hand wash.
This Dish Liquid is rarely used in my kitchen and not used like a typical detergent where you squeeze a tonne into the sink. Instead, this is used to wash those few items where you are not filling up the sink with water.I simply lather up my sponge with a few squeezes of the Dish Liquid and away I go.
As pure soap like Castile contains no artificial foaming agents and is not as sudsy as detergents, I admit this does take getting used too. For the kitchen, I personally do not dilute the Castile Soap, this way I gain more lather and since we use so little it does last us a while.
My hubby is a Chef, and I am forbidden to put his knives in the dishwasher plus there are other odd items that need to be washed by hand – this is when the soap cage comes in.
This is a new model of an old contraption that you now see in museums, and it basically holds a bar of soap so you can swish it around in hot water to create lather whilst not burning your hands.
Soap produces more lather the hotter the water, I let my tap run on the hottest setting until roughly half way, swishing like a mad woman while the water is running. Then I turn down the heat until the sink water is good to touch and I this my friends is the cheapest, safest, plastic free dishwashing I know.
You can see it in action here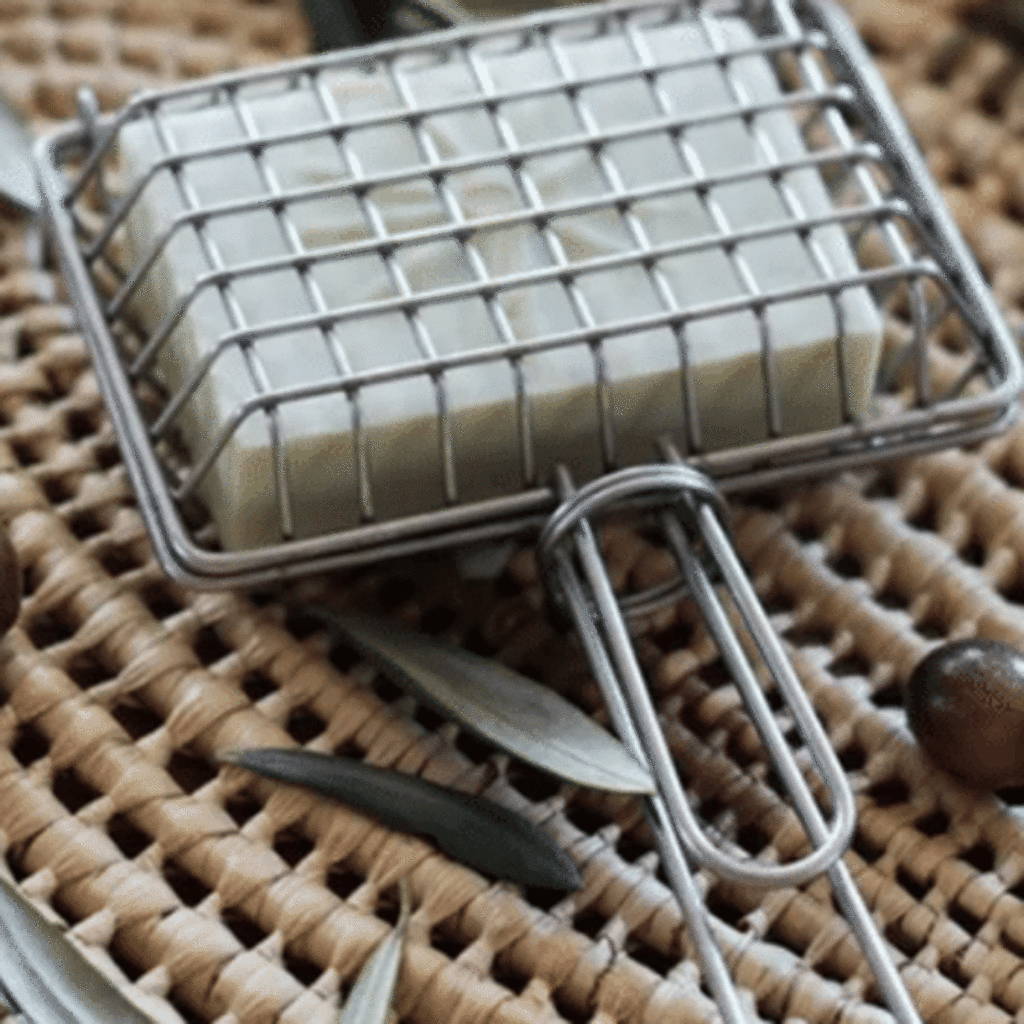 Not only are dishwasher tablets super expensive, but they also contain harsh chemicals, microplastics and then come wrapped in more waste. You do not even need tablets; powder is known to be more effective as it spreads more throughout the machine.
I make my own Dish Powder using only 3 ingredients: Percarbonate, Washing Soda and Coconut Soap Flakes (note: any finely grated soap will work). It takes me a whole minute to mix and then pour into my sexy Apothecary Jar.
This sits next to my Dish Liquid, because when I need some heavy-duty stuff for washing pots and pans, I simply sprinkle some in, add some hot water and scrub away.
Most importantly, I use this in my dishwasher and I simply pour direct from my jar until I hit the 25ml fill line in the detergent compartment, this is approx. 1 tablespoon, but I may add a tiny bit more if I have a super full or hard-core wash to do.
By the way, for the rinse aid I simply add white vinegar.
Sponges and scrubbers are all in keeping with the green theme, opting for biodegradable or compostable even better.
My favourites are the Eco Max Dish Brush and Safix scrub pad made with natural fibres, easy to clean and is antibacterial. See a range of plastic free, eco-friendly kitchen tools here.
As you can see, I have a little system set up which covers everything I need to wash dishes. I find the Dish Liquid and Dish Powder combo is perfect and can tackle any job thrown at it – but a good old bar of soap is a super saver!
If you need a hand setting up your green kitchen, please reach out I would love to help.