How to make a magic cleaning paste
Firstly, I recommend whipping up a batch and having it on standby, it stores very well and for long periods, even over a year! You can half the recipe to make a small amount or quadruple it and make a huge amount, whatever works for you and your home.
Then the best part is, depending on the cleaning task you can add extra ingredients to your ready-made paste like essential oils, percarbonate or hydrogen peroxide. It is important to only add the extra ingredients as you go and if required, not to the original recipe.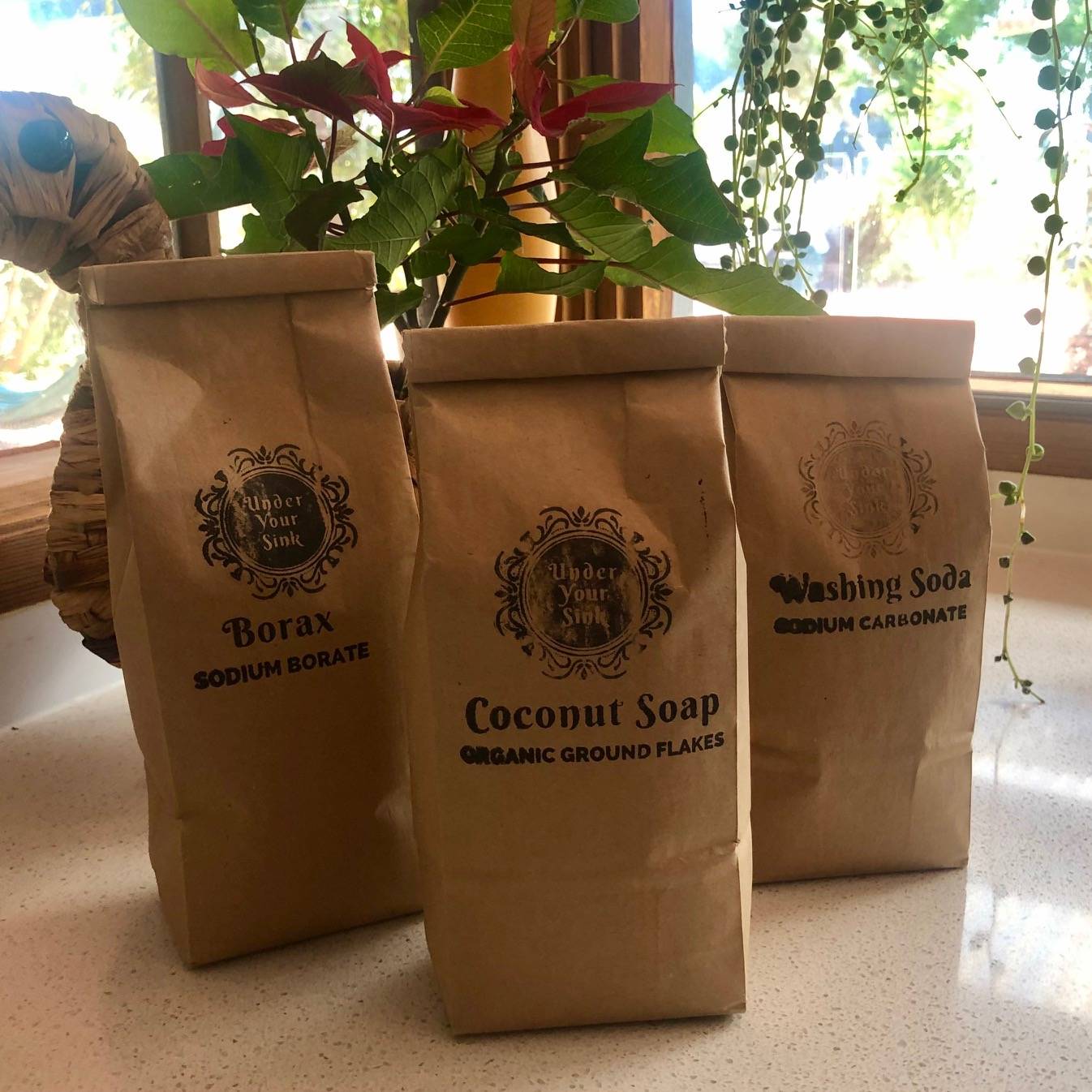 To make approx. 1 litre of cleaning paste you just need 4 eco-friendly ingredients.
• ½ cup Washing Soda (approx. 125g)
• ½ cup Borax (approx. 100g)
• ½ cup Coconut Soap Flakes/grated soap (approx. 75g)
• 3 cups boiling water (approx. 750ml)
A combination of degreaser, mild bleach/disinfectant and a surfactant which all work together to trap and remove dirt.
You can use a large bowl, container or saucepan just as long as it will be big enough to hold roughly double the quantity to you wish to make and be heat proof.
Simply add the powder ingredients and the boiling water and whisk until the powders are mostly dissolved. Don't worry if there are still a few bits in there.
NOTE: If you are making a large batch of say 3+ litres of paste, I recommend making this in a large saucepan over the stovetop.
Add the water first and bring to the boil, but then reduce the heat. Gradually add the powders, roughly ½ -1 cup at a time, whisking gently until it is mostly dissolved.

LET IT SIT UNTIL IT FORMS A FIRM GEL
You will now have a nice bubbly liquid, which may be very tempting to use as dish liquid. However, cover it up with a small escape hole for the heat, give it some time and watch it set like a gel.
You will know once it is set, it will be moderately hard, and nothing would drip out if turned upside down. You can still poke your finger in with some pressure
Now your gel is ready, you need to whizz it up with a stick blender, a potato masher or whatever means you can mash it with.
It should like a nice fluffy buttercream icing – but do not eat it! Now simply scoop your paste into an airtight container and it is ready to go.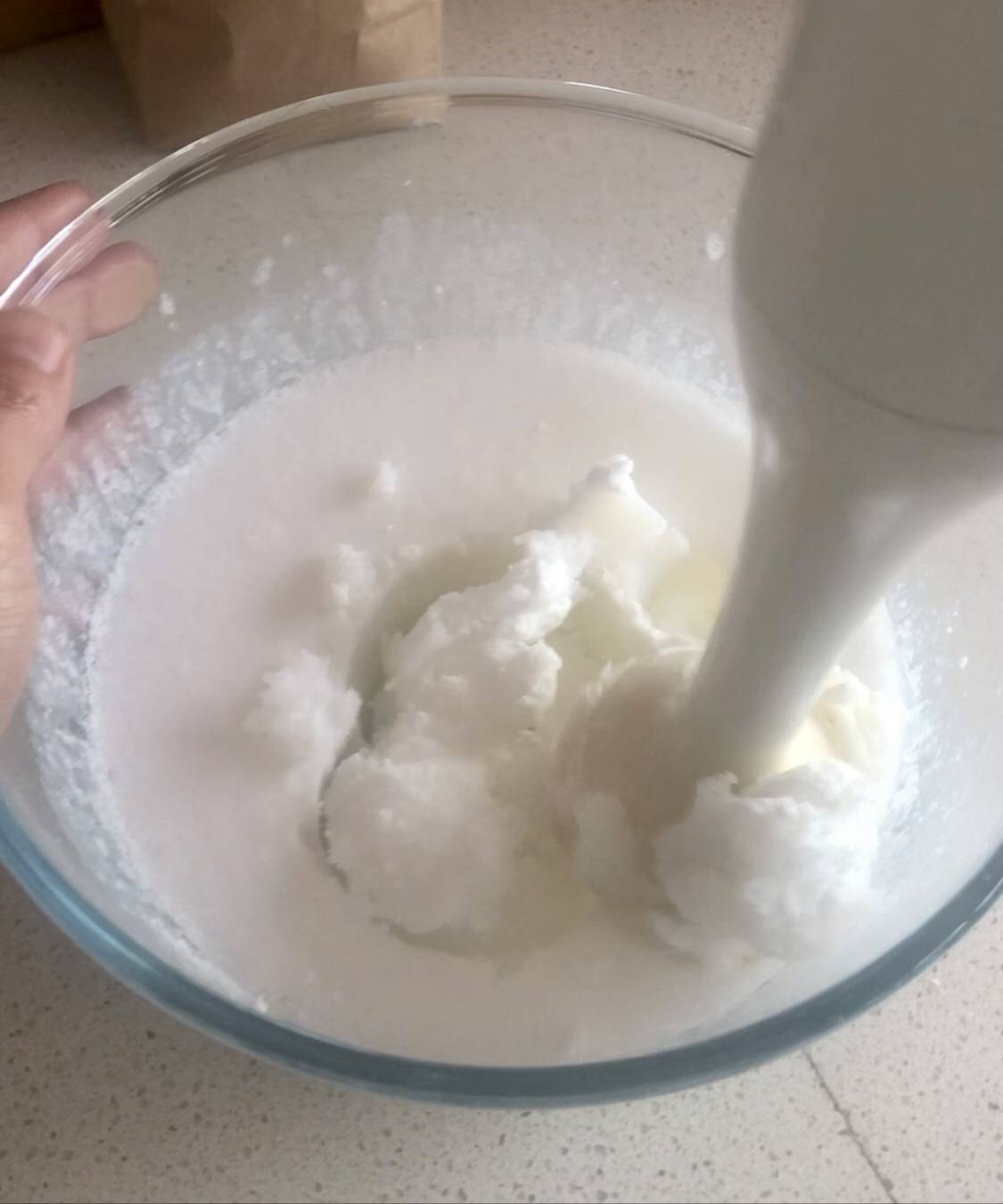 Watch a quick to see the making in action
PLEASE DO NOT BE TEMPTED TO ADD PERCARBONATE OR BICARB TO THIS ORIGINAL RECIPE!
The boiling water will react with those ingredients and it will foam right out of your container, worst part you will need to dispose of everything.
Storing percarbonate that has been activated by the hot water is not a good idea, it contains Hydrogen Peroxide which is volatile and what causes the reaction and bubbles. Keep it in its original dry state until you are ready to use it. Then it can be added to the paste when needed, I call this supercharging your Laundry Butter cleaning paste 😊
Although this paste is awesome, natural as possible and much safer than what you see on the supermarket shelves – it is still a highly alkaline cleaning product. Please do not eat it, snort it, put it in your eyes, rub it on your skin or bathe in it! Common sense will tell you it will not be a great experience.
But seriously, if you do have sensitive skin or any abrasions on your hands, please where gloves when using as it as a precaution.
If you would like to try some Laundry Butter Cleaning Paste, you can grab a pre-mixed powder you just need to add the boiling water HERE. Remember, you can access this recipe and many others anytime in our RECIPE HUB.Happy Green Cleaning!